No Tricks, Just Treats! Fun & Easy Halloween Pancake & Waffle Shapes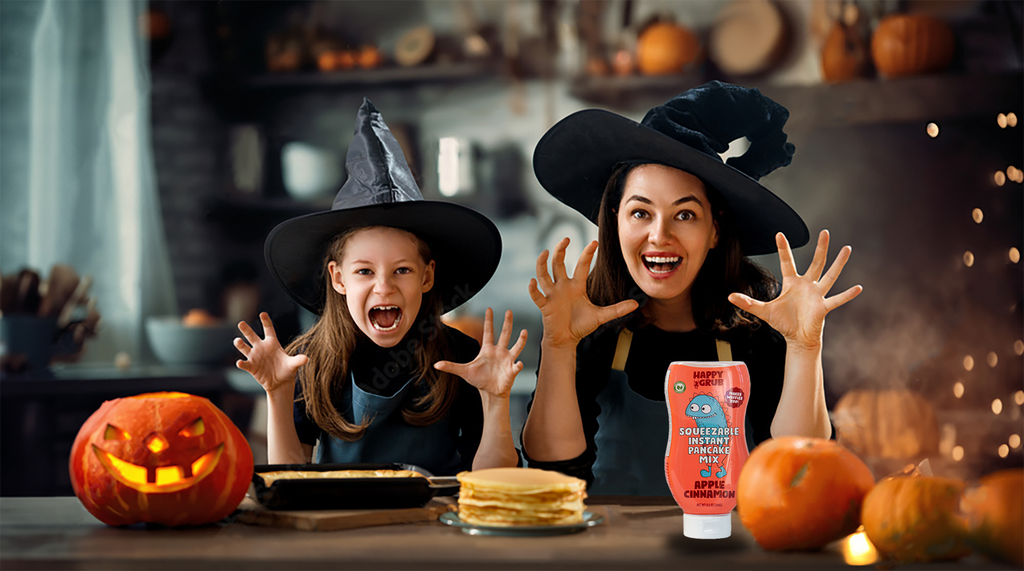 October has arrived, and that means it's time to get into the Halloween spirit! Whether you're planning a festive breakfast, a delightful brunch, or a fun family snack, our Squeezable Instant Pancake Mix is here to make mealtime easier and more enjoyable than ever. With our mess-free, easy-to-use bottle and fine tip caps, you'll be flipping Halloween-themed pancakes and waffles in no time. Join us as we explore some spooktacular ideas to create a memorable meal for your family this fall season.
To start, let's get into pancake art. Don't be scared, you can always just pour our mix right into a themed silicone mold, or shaped waffle maker. But, if you want to really use our mix to its full benefit, take advantage of our fine tip caps by making pancake art.
There are two ways to make pancake art:
Draw an outline and cook until golden brown, then fill the outline.
Add food coloring to one or both bottles and draw the outline first with one color. Then fill with the other.
Whichever way you choose, wait until you see bubbles forming all over your pancake. Slide a spatula underneath and if it slides through without sticking, it's ready to flip! If the spatula does stick, you just need a little bit longer for it to cook.
Now let's get into the fun ideas we've curated for you this Fall season.  
Classic Jack-O'-Lanterns
Start with the basics and create classic Jack-O'-Lantern pancakes or waffles.
Simply draw the outline of a pumpkin on your griddle or pan. Let that cook to a golden brown on the bottom, then fill the shape.
If making waffles, use a pumpkin shape waffle maker.
Finally, use chocolate chips or blueberries for eyes and a mouth, and a strawberry slice for the nose.
Spiderwebs
Transform your breakfast into a spider's lair by drizzling a spiderweb pattern onto your pan. Fill in the gaps with a fruity sauce or fill with another flavor.  
Ghostly Ghouls
Shape your pancakes into friendly ghosts by squeezing out a large oval shape and adding a couple of chocolate chip eyes. For extra credit, draw out a B-O-O!
Pumpkin Spice
Add a taste of fall to your morning with pumpkin spice pancakes or waffles. Simply mix some pumpkin spice seasoning into your bottle and enjoy the warm, comforting flavors of the season. Top with whipped cream and a sprinkle of cinnamon for extra flair.
Or use our Apple Cinnamon flavor to simply squeeze out the best fall flavors and scents without needing to add anything extra!
Batty Bats
Get creative with your pancake or waffle shapes by squeezing out batter in the form of bats. A bat-shaped waffle is a fun and unexpected twist for your Halloween-themed breakfast.
With our Squeezable Instant Pancake Mix, you can turn mealtime into a memorable and mess-free family activity. These Halloween and fall-themed pancake and waffle ideas will not only delight your taste buds but also fill your home with festive spirit. Whether you're planning a spooky breakfast, a midday snack, or a late-night treat, our convenient bottle and fine tip cap make it easy to create edible art that will have everyone saying "Boo-tiful!" Enjoy the fall season to the fullest with a touch of creativity and a whole lot of deliciousness from your very own kitchen. Happy Halloween, and happy eating from Happy Grub!